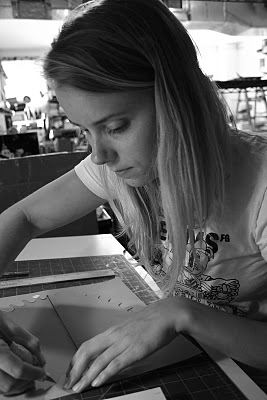 Oh yeah, player, it's time to get thrashed with another installation of t0p5. But what is t0p5? T0p5 is a DINCutorial series where artists select five embeddable videos. But how does t0p5 feel? T0p5 feels like flying over the earth; it feels like Shawn Kemp posterizing a robot; it sounds like balloons being released for orphans; it sounds like BROS; it sounds like Neptune; it smells like being in a CAVE with a Cellar Dweller; it looks like a noble surfer, surfing in the dark; it looks like "蘋果動新聞 – 2010-12-12 – 美森林現怪物 眼發光「蜘蛛俠"; it tastes like eating a fish you caught from the LA river; it tastes like buckshot; so without further ado, let us walk through the door to Jen Stark's t0p5.
Jen Stark is a Miami-based, psychedelic artist, whose majority of work includes paper sculptures; she also makes incredible animations using paper. Her work has been featured at Art Basel, MoCA, all over the internet, on the cover of the Harvard Business Review, and many other notables — vide her CV for more.
Jen Stark (born 1983 in Miami, Florida) is a contemporary artist whose majority of work involves creating paper sculptures. She also works with drawing and animation. Her work draws inspiration from microscopic patterns in nature, wormholes, and sliced anatomy.[1] She studied at the Maryland Institute College of Art (MICA), graduating Magna Cum Laude with a BFA majoring in Fibers with a minor in Animation.[2]

Stark's ideas are based on replication and infinity, echoing patterns and intelligent designs found in nature. Since expanding her medium from paper to include wood and even mirrors, Jen Stark's oeuvre of optically and methodologically baffling sculptures and drawings has enjoyed a renaissance of context. Her signature creations combine a variety of materials that have acted as a catalyst for more established spiritual proclivity as expressed through hypnotic mandala-like configurations. Jen Stark has exhibited her works in various galleries around the U.S. as well as the Girls' Club Collection, FL, the Museum of Art Fort Lauderdale, FL and the Museum of Contemporary Art in Miami. She was a recipient of the prestigious South Florida Cultural Consortium's Visual and Media Artists Fellowship in 2008. Stark lives and works in Miami, Fl. — Wikipedia article on Jen Stark
JEN STARK'S T0P5, in her own words.
"Geometry of Circles: Sesame Street " by Philip Glass
A simple, beautiful example of old school Sesame Street by the mastermind, Philip Glass.

"Let's Paint, Excercise & Blend Drinks TV" by Let's Paint TV
Just what the title says, including taking live call's while gang members call in to curse each other out.

"Story from North America" by Garrett Davis and Kirsten Lepore
A fun song about life lessons.

"Ready, Able" Music by Grizzly Bear, Animation by Allison Schulnik
Cool video of playdough melting faces in a magical forest.

"Nobody Here" by sunsetcorp
A neverending dreamy loop of nothing.

More:
Paper: The Art and Animation of Jen Stark