319 Scholes presents E-Vapor-8 curated by Francesca Gavin • 5/5–5/18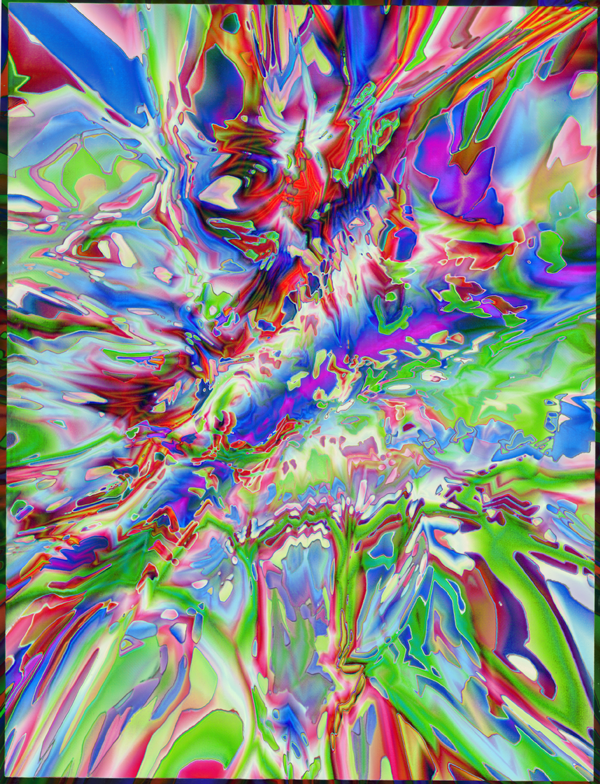 "I would only believe in a God that knows how to dance." — Thus Spoke Zarathustra, Friedrich Nietzsche, 1885
E-VAPOR-8
curated by Francesca Gavin
May 5 – 18, 2012
Opening: Saturday May 5, 7:00 p.m. – 10:00 p.m.
Gallery hours:  Thursday – Sunday, 2:00pm – 6:00pm and by appointment
319 Scholes Street
Brooklyn, NY 11206 (map)
319scholes.org
"E-Vapor-8", titled after a 1992 track by the rave band Altern 8, explores the influence and relationship between contemporary art and rave and electronic music culture. Here everything can be taken from 'the archive' and reworked – the surface glare of squeaky voice, the speed of imagery and sound, infantalist fashion, smiley faces, pirate radio, fractal imagery, hyper color fluorescents, sample-style editing processes, found footage of dancing and parties, Spiral Tribe's politicization, and kiddie-rave pop songs. There are more serious ideas behind the visual and aural melting pot. Ideas around community, technology, intellectual and physical freedom, rebellion and myth-making all play into this wave of contemporary work.
Rave is now positioned, aesthetically and aurally, as a proto universe for contemporary, technology-infused art. House and rave provided some of the first examples of defunct technologies being co-opted and reused by a younger generation for creative purposes. Computer-made graphics once used as rave visuals are now considered precursors to online experimentation. The processes of cut and paste, sampling and looping that were the basis of DIY electronic music are echoed in video editing techniques and online footage amalgams. Early house and rave culture provided a model of democratization of culture, just as contemporary visual artists consider their use of the internet now. The hedonistic drug references of the period are gone. The moment of mass cultural upheaval has passed. We are left with a sense of DIY utopia and the desire to create work that is immediate, sensorial, and at times simply fun.
Participating artists include:  Fatima Al Qadiri, Cory Arcangel and Frankie Martin, Rhys Coren, Petra Cortright, Jeremy Deller, Aleksandra Domanovic, Cecile B Evans, Jeffrey Gibson, Alexandra Gorczynski, Leslie Kulesh, Samuel Levack and Jennifer Lewandowski, Marisa Olson, Hannah Perry, Christian J. Petersen (Dumb Eyes), Travess Smalley, Lucy Stokton, and Daniel Swan.
Francesca Gavin is a writer, editor and curator based in London. She is the Visual Arts Editor of Dazed & Confused, the art editor of Twin and a Contributing Editor at AnOther and Sleek Magazine. Her books '100 New Artists', 'Creative Space', 'Hell Bound: New Gothic Art' and 'Street Renegades' are all published by Laurence King. She has curated international exhibitions including 'Responsive Eyes' (Jacob's Island, London 2012) 'The New Psychdelica' (MU, Eindhoven 2011) and 'Syncopation' (Grimmuseum, Berlin 2010). She has written for publications including Vogue, Wallpaper*, It's Nice That, Nylon, Bon, icon, Oyster, Blueprint, Art Review and Sunday Times Style and is the curator of the Soho House group.
More: