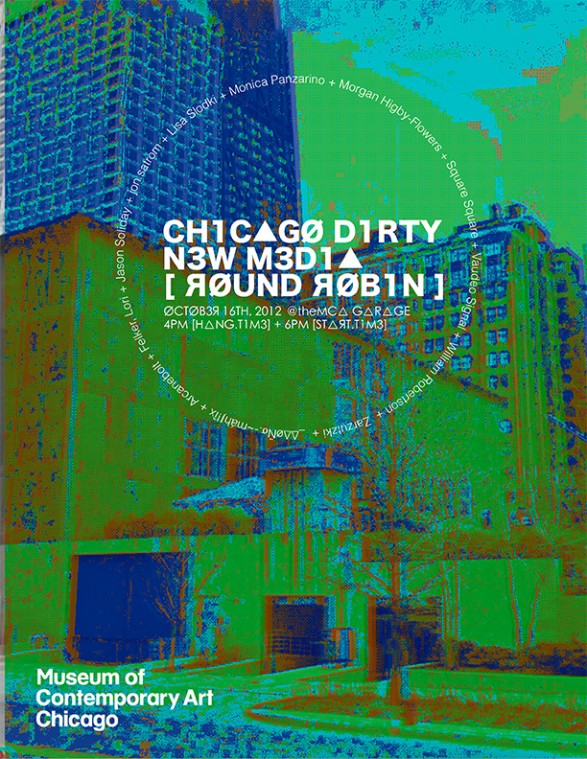 Chicago Dirty New Media: Round Robin
Tuesday, October 16, 2012
at the Museum of Contemporary Art, Chicago (map)
Organized by the MCA and Nick Briz
6pm
Tomorrow, 10/16/12, the MCA is hosting a real-time audio and video performance event exalting the Chicago Dirty New Media movement, aka Ch1c4g0 D1rty N3w M3d1▲, a movement typified by raffish imagery, digital decay, noise, hacked technology and performance; software and hardware; online and offline; IRL and NRL.
Chicago Dirty New Media: Round Robin will take place in the bottom level of the MCA garage. The structure of the event will be 'round-robin' in the "Baltimore wham city sense," insofar as all of the performers set up around the perimeter of the space at the same time, playing shorts sets one-at-a-time — no opener, no closer — a break from traditional line-up hierarchies.
Start time is at 6pm; set up time is at 4pm. Participating artists include:
_∆∆øÑσ.-~máh⌡!îx (Jake Elliott, jonCates, Ei Jane Janet Lin, Entro MC [pronounced "mono magix"])
Arcanebolt (Tamas Kemenczy, Mark Beasley, & Alex Inglizian)
Felker, Lori
Jason Soliday
jon.satrom
Lisa Slodki
Monica Panzarino
Morgan Higby-Flowers
Square Square
Vaudeo Signal (Ben Baker-Smith & Evan Kühl)
William Robertson
Zarzutzki
More:
MCA: Internet Superheros Series: Chicago Dirty New Media: Round Robin