Nicolas Maigret [Paris] && HARD R [Chicago] @ the Nightingale, 21 February, 2012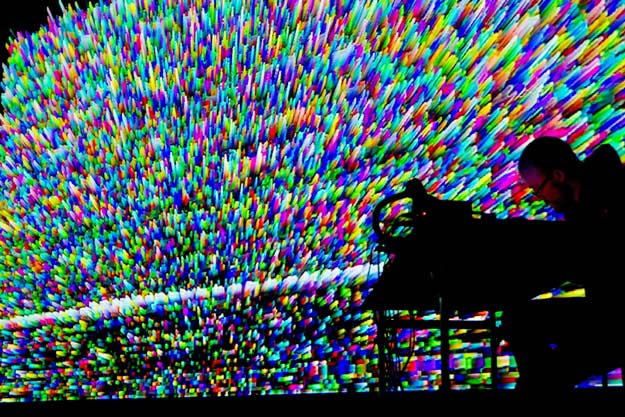 presented by Upgrade!Chicago (curated by Nick Briz)
@ the Nightingale
1084 N. Milwaukee, Chicago, IL, 60642 (map)
Tuesday, February 21, 2012
@ 7PM
$5 donation
On Tuesday, Feb 21, at 7pm, Upgrade!Chicago presents an evening of experimental sound/music performances and noise/new-media lectures by Nicolas Maigret (Paris) and HARD R (Chicago).
Upgrade!Chicago is an art and technology series which presents new-media projects, engages in informal critique, and fosters dialogue and collaboration between individual artists. Upgrade! Chicago is the local node of the international Upgrade! network and meets at the Nightingale Theatre.
###########################################
Nicolas Maigret has been developing experimental sound and electronic image projects (performances, installations, programming, radio) since 2001. Maigret takes the internal characteristics of the media, which are revealed through their errors, dysfunctions, borderlines or failure threshold, and develops them into sensory and immersive audio visual experiences.
After studying Intermedia arts with a focus in avant-garde theoretical education, he joined the laboratory Locus-Sonus in Nice dedicated to networked sound art research.
Maigret taught at the Fine Arts School of Bordeaux and is presently involved in an artist run space named Plateforme in Paris. He develops digital and sound art projects in collaboration with Nicolas Montgermont under the name Art Of Failure. His works have been presented in various exhibitions and venues such as File (Sao Paulo, BR); Gli.tc/h (Birmingham, UK); DeOrigenBélico, (Caracas, VE); Sonica (Ljubljana, SI); Leeds Film Festival (UK); Le Zoo (Genève, CH); Artivistic (Montreal, CA); ESG (Kosice, SK); Cimatics (Brussels, BE); Gaite Lyrique (Paris, FR).
http://peripheriques.free.fr/ + http://artoffailure.free.fr/
###########################################
HARD R is a Chicago-based collaboration between Michael Junokas and Edward Breitweiser. Together, Junokas and Breitweiser design software and electronic systems for improvised musical performances.
Michael Junokas is a member of the faculty at Elmhurst College, teaching music theory and composition. He is also the music director at Notre Dame de Chicago Parish. In 2010, he graduated from DePaul University with an M.M., studying under Juan Campoverde Q.
Edward Breitweiser is a Chicago-based artist, musician, and writer. His works have been presented at Festival MusicAlp (Courchevel, FR); the Illinois State University Galleries (Normal, IL, USA); the School of the Art Institute of Chicago; Salle Cortot (Paris, France); threewalls (Chicago); the Giorgio Cini Foundation (Venice, IT); Stramash Space (Glasgow, UK); and the Network Music Festival (Birmingham, UK).