Speed Show: Awareness of Everything, June 8, 2011, at the Internet Garage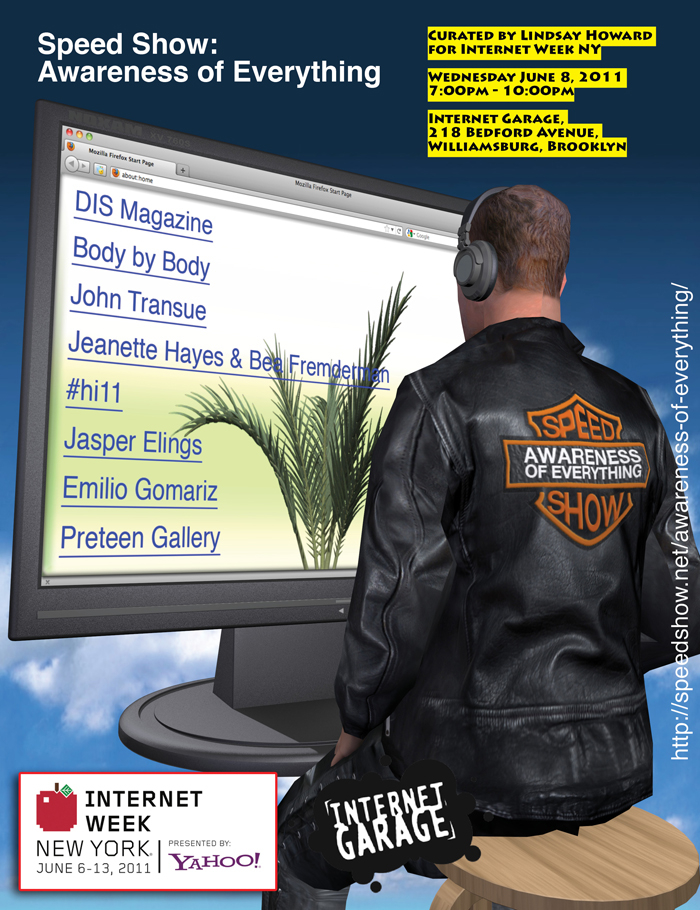 Speed Show: Awareness of Everything
Curated by Lindsay Howard for Internet Week NY.
Wednesday June 8, 2011, 7:00pm – 10:00pm
Internet Garage, 218 Bedford Avenue, Williamsburg, Brooklyn
(click here for map.)
The phrase "Awareness of Everything" is drawn from a recent essay published by Erik Stinson called Towards A New Theory of Creativity. At the heart of this essay, Stinson describes the role of the contemporary creative, and outlines the skills one must develop in order to 'become creative' or 'more creative.'
Inspired by this theory, the projects collected in Awareness of Everything embody these seminal skills, chiefly: humor, surprise, effective communication, extensive knowledge of a wide variety of cultures and forms, along with the proposal that "the internet has rendered originality meaningless as a strictly policed absolute."
Visitors are encouraged to play, surf, copy/paste, tweet, blog, and email during the opening, an involvement which is built into the Speed Show exhibition format as an ode to the user's active engagement, expression and move toward an awareness of everything.
Works by:
DIS Magazine
Body by Body
John Transue
Jeanette Hayes & Bea Fremderman
#hi11
Jasper Elings
Emilio Gomariz
Preteen Gallery
More about the SPEED SHOW concept:
"The SPEED SHOW exhibition format: Hit an Internet-cafe, rent all computers they have and run a show on them for one night. All art works of the participating artists need to be on-line (not necessarily public) and are shown in a typical browser with standard plug-ins. Performance and life pieces may also use pre-installed communication programs (instant messaging, VOIP, video chat etc). Custom software (except browser add-ons) or off-line files are not permitted.
Any creative physical modification to Internet cafe itself is not allowed. The show is public and takes place during normal opening hours of the Internet cafe/shop. All visitors are welcome to join the opening, enjoy the art (and to check their email.)" — SPEED SHOW exhibition concept & series initiated by Aram Bartholl, 2010
Press release ———–> here.