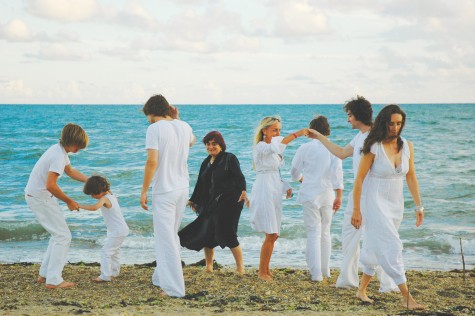 Agnès Varda is a French filmmaker with a body of work in both narrative (fiction) and documentary. Hailed as "the Grandmother of the New Wave", Varda has worked with Chris Marker, the Black Panthers, and was encouraged to pursue a career in film-making by the great Alain Resnais. Her work is imaginative, full of color, hawk-eyed, and…well, you just need to watch Vagabond.
The following quotes are excerpted from an Oct. 2009 interview The Believer conducted with Varda:
I had a world. I don't think I had a career. I made films.

* * *

I think people should be different. I love people who don't go by the rule that you have to be careful because you're old, you have to do this and that, you have to eat this and that. I try to do nothing. I drink rosemary when I have a lot of work to do. People take coffee, they take speed, whatever. I take rosemary. My company is called Ciné-Tamaris, which is rosemary. That's my speed. Hot water and herb. But it's nice to think that we have in ourselves the energy. It's somewhere, but it's sleeping sometimes. I try to wake it up when I need it.

* * *

I didn't go to film school. I was never an assistant or trainee on a film. I had not seen all those cameras. So I think it gave me a lot of freedom.

* * *

When I started my first film, there were three women directors in France. Their films were OK, but I was different. It's like when you start to jump and you put the pole very high—you have to jump very high. I thought, I have to use cinema as a language.

* * *

When I saw what painting had done in the last thirty years, what literature had done—people like Joyce and Virginia Woolf, Faulkner and Hemingway—in France we have Nathalie Sarraute—and paintings became so strongly contemporary while cinema was just following the path of theater. Theater! I mean, psychology and drama and dialogue and making sense! At that time, when I started, in the '50s, cinema was very classical in its aims, and I thought, I have to do something which relates with my time, and in my time, we make things differently.

* * *

I didn't have a list of things I should do this year, next year, find a good novel, sign two stars and make a deal—because I think cinema should come from cinema. I never adapted anything. Beautiful books are beautiful books, that's it. I don't know why we should transform them. I have respect for literature. If he found the words, if she found the words—this is a book! Bien! I didn't think I should do a career by picking this or that. I waited for each film to become important for me. If I had no ideas for a film, I didn't do a film. So I made not that many films for fifty-four years of working. I think I did fifteen long features and fifteen documentaries, or something like this, which is very little when you think of people making a film every year. Some people have done fifty or sixty films.

* * *

When I did the first edit of Les plages, it was very dry and very square in a way. I was just saying the minimum. I said, Well, if this is the minimum, I don't make it. So I tried to make it more refined. I tried to find images, allegorical images, that I could use to express things that I didn't want to say or didn't want to show or I was not able to find how to show. I started to look for images, including paintings, that would relate to my own feelings and experience. Which is a contradiction of the film—I want to be shown, I want to be hidden.

* * *

Agnes Varda on Chris Marker:
I gave [Chris Marker] the voice of my editor, so this is fake, but it's also a testament of my friendship, and my admiration for Chris, who is a very bright man, and hardworking. He's older than me and he still works like a real worker—he does good things. And he's a very interesting man, really interesting, aging in a very interesting way. He's like in the middle of a cave—have you been there? Screens and machines and he does the music and he does the editing and he has piles of books and records and things, and he thinks about other people all the time—all these cartoons about what's happening in the world, very sarcastic cartoons, you know. He's bright. I think he doesn't want to meet so many people. He doesn't eat, he has his protein sort of food, he doesn't want to lose time in eating so he feeds himself with, you know, raspberries and protein food, and he's OK.