14 Posters: Andrei Tarkovsky's Solaris (1972)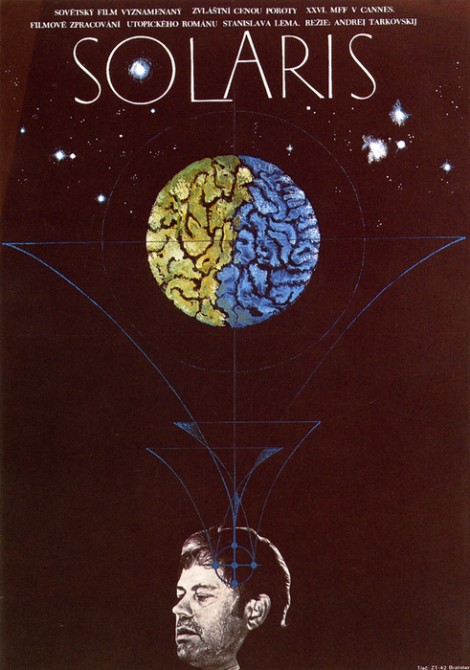 Great films usually have great poster art, and Andrei Tarkovsky's Solaris (1972) is no exception. Solaris is Tarkovsky's filmic adaptation of Stanisław Lem's 1961 story Solaris. Solaris is a fantastic science-fiction film, wherein Tarkovsky chases the metaphysical, dreams, alternate planes of existence, phantom entities, nodes of the past, present and future, and one's longing for a wife whom is dead, but appears in present-time feverish visions. A large part of the film is falling in love with ghosts.
Solaris won the Grand Jury Prize at Cannes. During that time, Solaris was compared to Kubrick's 2001: A Space Odysessy; however, it's known that Tarkovsky disliked 2001 and thought it was cold and sterile. According to Phillip Lopate in his essay "Solaris", the media pushed a cold war sort of narrative during the time of its making: "The media played up the Cold War angle of the Soviet director's determination to make an 'anti-2001,' and certainly Tarkovsky used more intensely individual characters and a more passionate human drama at the center than Kubrick."
Steven Soderbergh remade Solaris with George Clooney in 2002.
It's an undertaking to write about Andrei Tarkovsky's films, Solaris speaks for itself, so, let's reference the Criterion Collection's synopsis:
Ground control has been receiving strange transmissions from the three remaining residents of the Solaris space station. When cosmonaut and psychologist Kris Kelvin is sent to investigate, he experiences the strange phenomena that afflict the Solaris crew, sending him on a voyage into the darkest recesses of his own consciousness. In Solaris, legendary Russian filmmaker Andrei Tarkovsky creates a brilliantly original science-fiction epic that challenges our preconceived notions of love, truth, and humanity itself.
As expected, the Criterion Collection released a lavish two-disc Solaris set, worthy of your purchase. Click here to watch an excerpt from the film. Also, the film is available as a $5.00 online rental via the Criterion Collection.
Below are 11 more posters — and two snaps of laser disc artwork — for Solaris.