BEN RUSSELL : BLESS – Opening Reception – 5 Feb, 2011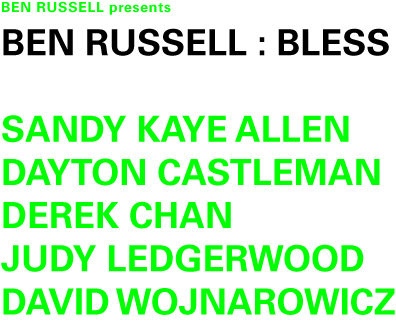 February 5, 2011 – March 12, 2011
Opening reception: Saturday 6-9 pm, February 5th, 2011
Private viewings by appointment*
*The performance by Sandy Allen
will begin at 8:00pm during the opening reception.
ABOUT THE SHOW:
Gesundheit!  It seems that you've still got the sniffles, Friend, and what with the winter of our discontent snowing down upon us again and again and again, it's clear that you need something more than a box of Kleenex to lift your spirits.  And so, without further ado, we're taking the "BLESS" out of "God BLESS you" and putting it back into BEN RUSSELL.  In preparation for such an historic event, we had an Orthodox priest sprinkle holy water in the screening room, got some German Pagans to mark the snow in the sculpture garden with goat's blood, asked our Jewish ex-girlfriend to recite prayers while lighting the Shabbat candles in the exhibition space, and took part in a gang initiation rite in the kitchen where we were punched really hard in the forehead.
After all, art is BLESSing (which, coincidentally, is also the term for a group of unicorns) – art is brightness, art is hope, art is buoyancy of spirit in the Newest Year.  In the year of our (land)lord 2011, we've assembled an array of minor altars upon which to worship and be worshiped – we've erected a selfless monument by which to orient ourselves in the darkness, a beacon of positive communication (CASTLEMAN) with which we can broadcast our message to the world.  BEN RUSSELL : BLESS is self-realization through rigor and ritual, it is a document of time-in-space, re-spaced (CHAN); it is sage incense and Cherokee flatbread and self-taught customs derived from a disappearing culture (ALLEN); it is an inquiry into Painting and Form and the very real possibilities of a center that has expanded outward from itself (LEDGERWOOD). Last but certainly not least, BEN RUSSELL : BLESS is a video-shout-in-triplicate, a protest against social and spiritual conservatism, a conversation that we simply cannot allow to become familiar (WOJNAROWICZ).
We are BLESS, we are future, we are now — take our hands and join us, let the light of Art shine upon us all.
***********
SANDY KAYE ALLEN lives in Chicago.  She is deeply worried about the dying heritage and fading language of her ancestors, and she actively engages in the important artifacts and stories of Native American life, drawing from ritual and custom in an effort to educate others through her work. Intrigued by the sounds of the Cherokee language and the instruments that accompany it, she weaves these elements together with samples of her own recordings and her own voice.  Moving between fact and fabrication, she teaches herself folk dances and writes love letters to her pretend Native American boyfriend in Tsalagi, the Cherokee language.  She learns Native American recipes to cook meals for her friends; she sings the self-taught Cherokee morning song of her ancestors and often contemplates the magic of being able to fluently speak the Cherokee language. She dreams of one day finding and connecting with the Cherokee elders and using their knowledge to inform the world around her.
DAYTON CASTLEMAN is an artist who was born in New Orleans, worked extensively in Philadelphia, and now resides in Chicago, where he received his MFA from the School of the Art Institute. He has installed work at numerous venues in Philadelphia, and has exhibited his work in Chicago at Co-Prosperity Sphere, DePaul University Museum, and Jennifer Norback Gallery, among others, as well as curating exhibitions at Alogon, Spoke, and The Zhou B. Art Center. He has shown work at the International Sculpture Center in New Jersey, and at galleries from Los Angeles, to New York, to Rotterdam.
DEREK CHAN's paintings, works-on-paper, and durational performances record the minutia of daily life while combining historical narratives to reflect on such themes as spirituality. He develops his work through a highly personal, meditative practice that most recently that explores the spiritual and poetic nature of the Four Corners region, where Arizona, New Mexico, Utah, and Colorado meet. Chan's recent exhibitions include Thirty and Eightwith Golden Age, a 12 x 12 at the Museum of Contemporary Art Chicago and collaborations with Theaster Gates at the Whitney Museum of American Art during the Whitney Biennial.
DAVID WOJNAROWICZ was a painter, photographer, writer, filmmaker, performance artist, and activist who was prominent in the New York City art world of the 1980s.  Wojnarowicz died of AIDS-related complications on July 22, 1992 at the age of 37.  In November 2010, G. Wayne Clough, Secretary of the Smithsonian, removed Wojnarowicz's short silent film A Fire in My Belly from the exhibit "Hide/Seek: Difference and Desire in American Portraiture" at the National Portrait Gallery after complaints from the Catholic League and Rep. John Boehner.
ABOUT THE SPACE:
BEN RUSSELL is an art space in the Pilsen neighborhood of Chicago.  Co-curated by artists Brandon Alvendia and Ben Russell and situated around the front two rooms in the apartment of its namesake, BEN RUSSELL began presenting a series of month-long 5-person shows on Memorial Day Weekend in the year 2009.  Participating artists are invited to produce and exhibit work that is in accordance with the title/theme of each show, the name of which will be derived entirely from the 10 letters in the words "ben russell."  Future shows may include BEN RUSSELL : LENS, BEN RUSSELL : REBELS, and BEN RUSSELL : US. In keeping with the structural conceits of the French Oulipo language group and the spatial and material limits of what is effectively a rented apartment, BEN RUSSELL maintains a strict set of restrictions for all exhibiting artists by which:
– One artist shall produce a wall-mounted work scaled at a minimum of three quarters of the thirteen by ten foot wall.
– One artist shall produce a wall-mounted work at a maximum of one half of the opposing wall space between the two adjacent doors.
– One artist shall produce a time-based work to be presented via a CRT flat screen monitor (and associated components) with Dolby 5.1 audio in the adjacent screening room.
– One artist shall produce work to be installed in the all-weather sculpture garden.
– One artist shall produce work to be performed for the duration of 15-30 minutes during the opening.

BEN RUSSELL features a rotating roster of Chicago-based and non-Chicago-based artists and will be open for viewings one night a month and by appointment, as needed.