Review: My Tears are Dry (2009) by Laida Lertxundi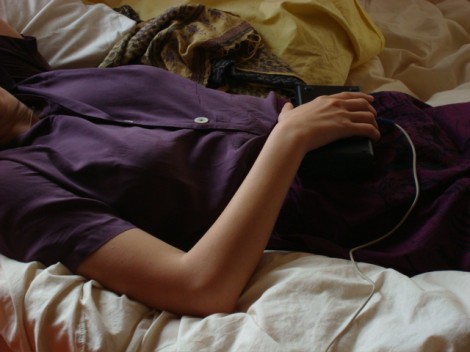 My Tears are Dry, Laida Lertxundi, 2009, 4 min, 16mm, color, sound
Four minutes of sound and music, three minutes of solitary and collective dreams, and a dreamer's sunlit window to an alley of waving trees. Laida Lertxundi's 2009 four-minute short, My Tears are Dry, is a delicate portrait of two women and the call-and-response of their sound and music, with heavy California atmosphere, and all the inherent nuances thereof.
One girl lays on a comfy bed contemplating the '60s music of the Hougy Lands' song "My Tears are Dry," played from her personal tape player, pressing the buttons in a stop/start fashion. The dreamer on the bed, in the light of day, is cross-cut with a woman sitting in a blue-wall room, acoustic guitar in lap, plucking at and sliding her fingers up-and-down the neck. Presumably this woman is just learning her instrument, either that or she is trance-like experimenting. Even more presumably, the old-gold Hoagy Lands music influences the other girl and her guitar. The two are in conversation. This story is a quick and ponderous look into the days of their lives and it's hard to escape subjective interpretation.
On the Hoagy Lands song, Laida Lertxundi states, "The lyrics of the song reference the eternal sunshine of California and its promises." (Listen to the song at the bottom of this post.) Laida also infers that the film is chasing conversation, "After Bruce Baille's All My Life," according to the MTAD press kit.
There are three camera setups: first, we observe in stillness — a window glimpse sort of perspective — and this dreamy stillness of the frame stirs us up for the impetus of two final movements of the frame: a panning-up interior shot of the woman on the bed, face in the sun — looking ever onward and dreaming out the window — and a successive exterior tilt-up to a palm, a shot that is set in a sun-washed California alley with a lively eclectic mix of trees and green, empty of the human presence. The final shot stops and hangs on a waving palm tree touching the blue sky, where two red objects are suspended and facing.
In any other context, the camera movement is basic, but Laida's movement is a thoughtful and gentle wind, wherein breezy-dreamy tropes and setups are carried to new heights. These two are in tune, interior and exterior, place and space, with sound to chase. This film is not a complete sentence, it definitely suggests there is something more.
— AR
FILMMAKER BIOGRAPHY
Laida Lertxundi (Bilbao, 1981) works on film making non-stories with non-actors that play with diegetic space and a particular sound and image syntax to create moments of downtime, of a time between events. She is interested in the histories of experimental film, the possibility of a feminine language and the blurring of art and life.
Her films have shown at Views of the Avant Garde at the New York Film festival, London Film Festival, Viennale (Austria), Los Angeles County Museum of Art (LACMA), and Museum of Modern Art (MoMa, NY), among other places.
She is a film curator for Xcentric programming series at Centre de Cultura Contemporánea de Barcelona and curates independently for ZineBi International film Festival at the Guggenheim Bilbao, CalArts, and other venues. Her writing has been published in Xcentric: 45 Películas Contra Dirección 2006, CCCB and La risa oblicua. Tangentes, paralelismos e intersecciones entre documental y humor, Madrid, Ocho y Medio Libros de Cine, 2009. She currently teaches at University of California, San Diego.