FREE KEVIN: an ongoing Computer Hacker Screening Series, NYC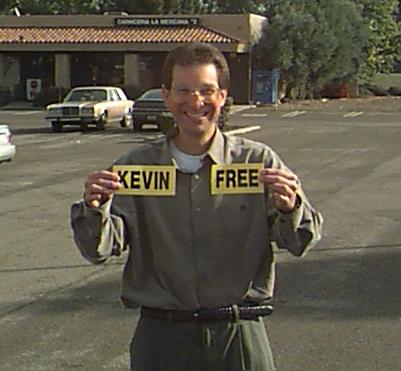 FREE KEVIN
A Hacker Screening Series
Curated by Pirateturk
Organized by Laurel Ptak
Hosted by General Public Library
14 OCTOBER 2010, 6pm
Art in General, New York
"FREE KEVIN is an ongoing and roving screening series from a collection of 15.4 GB of downloaded films and documentaries depicting hackers and related computer culture from the 1980s-2000s. A range of material including blockbuster films, educational television programming, and documentaries produced within the hacking community will be presented in various cities worldwide over the next year in order to stimulate dialogue around issues of intellectual property and open culture.
The title FREE KEVIN is an appropriated slogan that was originally used by the hacker community in the 1990s to protest the arrest of Kevin Mitnick, a legendary hacker who at the time was the most wanted computer criminal in United States history. Mitnick's story is of interest (and depicted in several films in the screening series) for its fascinating particularities concerning hacker culture, intellectual property, and media representation historically, but at the same time it also functions as a contemporary symbol. If anything, the struggle over intellectual property has only intensified in the last decade and FREE KEVIN can be read as the embodiment of resistance in an ongoing struggle for rights and freedoms from corporate and state control in an information age and economy.
The project also serves as a re-imagining of the role of the curatorial inside network culture where information is often freely, widely and anonymously distributed. All the films, videos, documentaries to be screened as part of FREE KEVIN were compiled and distributed via peer-to-peer torrent sharing technologies. They originate from one collection found online, assembled and distributed by an anonymous Pirate Bay user known only as "pirateturk". This person is credited as the screening series' curator, though they are not in any way directly involved with the event.
A set of publication will accompany the screening in order to contextualize and complicate the ideas at stake concerning intellectual property and the hacker as cultural and criminal figure. A PDF of the catalogue, research notes, documentation, bibliography, and a DIY FREE KEVIN kit (to enable others to create their own screenings) will eventually be released as a torrent file on Pirate Bay and the entire project will continue to be updated at www.freekevin.info."
Complete list of movies, documentaries, animations, and interviews to be screened:
TRON (1982)
WAR GAMES (1983)
THE KGB, THE COMPUTER, AND ME (1990)
THE LAWNMOWER MAN (1992)
HACKER ATTACK (1994)
HACKERS (1995)
JOHNNY MNEMONIC (1995)
THE NET (1995)
TRIUMPH OF THE NERDS: THE RISE OF ACCIDENTAL EMPIRES (1996)
NICHTS IST SO WIE ES SCHEINT (1998)
OPERTATION TAKEDOWN (1999)
PIRATES OF SILICON VALLEY (1999)
SNEAKERS (1999)
WARRIORS OF THE NET (1999)
THINKING MACHINES: CREATION OF THE COMPUTER(2000)
ANTITRUST (2001)
SWORDFISH (2001)
THE SECRET HISTORY OF HACKING (2001)
HOW IT'S MADE: MICROPROCESSORS (2002)
OUTLAWS AND ANGELS (2002)
FREEDOM DOWNTIME (2003)
IN THE REALM OF THE HACKERS (2003)
INTERVIEW WITH KEVIN MITNICK (2003)
CYBERPUNK EDUCATOR (2004)
HACKING DEMOCRACY (2006)
NET NEUTRALITY (2006)