Frida & Camille Claudel Silk-Screened Posters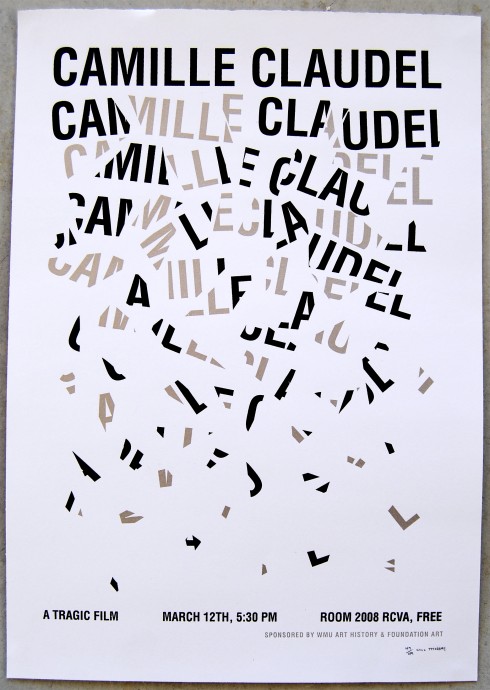 Here are the last two film posters from the Will Thomas screen-printed series – both films are biopics and both films had successful festival runs.
Bruno Nuytten's 1988 film Camille Claudel was nominated for two Academy Awards and won awards at both the Berlin International Film Festival and the Cesar Awards, France.
SYNOPSIS: A biopic of Camille Claudel. Sister of writer Paul Claudel, her enthusiasm impresses already-famous sculptor Auguste Rodin. He hires her as an assistant, but soon Camille begins to sculpt for herself and for Rodin. She also becomes his mistress. But after a while, she would like to get out of his shadow.
Julie Taymor's Frida is a well known biopic of the artist Frida Kahlo, who is portrayed by a unibrowed Salma Hayek.  The film won two Academy Awards, a Golden Globe, an award at the Venice Film Festival, and received many other nominations.
SYNOPSIS: Frida chronicles the life Frida Kahlo shared unflinchingly and openly with Diego Rivera, as the young couple took the art world by storm. From her complex and enduring relationship with her mentor and husband to her illicit and controversial affair with Leon Trotsky, to her provocative and romantic entanglements with women, Frida Kahlo lived a bold and uncompromising life as a political, artistic, and sexual revolutionary.
MORE:
Camille Claudel on IMDB
Frida on IMDB
Blue Velvet Film Poster by Will Thomas
3 Silk-Screened Film Posters by Will Thomas
Talking Heads Stop Making Sense Film Poster
3 More Film Posters by Will Thomas