Man Walking on Snow | Film Review
2001, Japan, 103 Min, color, in Japanese w/ English subtitles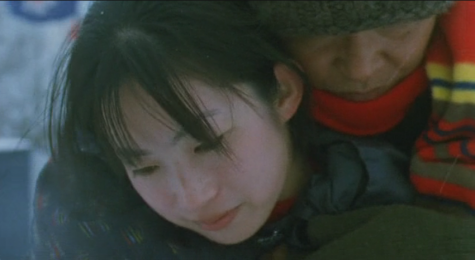 Masahiro Kobayashi's Man Walking on Snow (2001), aka Aruku, hito, is the third feature film from Kobayashi and was an Un Certain Regard candidate at the 2001 Cannes Film Festival. In this indelibly subtle drama, we follow an aging widower who lives the quiet life in a snow-covered town in Northern Japan. The old man, Nobuo (Ken Ogata), finds joy in working at a salmon hatchery, a job where he works alongside that of an attractive coquette, Michiko (Sayoko Ishii). At heart, this hushed story considers the confinement of ones atmosphere, the suppression of ones emotions, loneliness, foreseeable daily routines, and the longing for something new. Kobayashi creates an enjoyably realistic and minimalistic atmosphere that is nuanced with notes of irony and unexpected moments of excitement.
The most compelling scenes in Man Walking are those that observe Nobuo's daily routine, a routine that involves a lot of walking on snow, and, believe it or not, these are fun walks to watch. During his long walks, Nobuo often tips down to catch his fatigued breath, adjusting to the fact that he is aging and becoming weak. However, an eccentric, synthetic soundtrack accompanies these walks providing a humorous, off-kilter tone — drum machine and synthesizer perform circus-like music — which creates a juxtaposition that works really, really well. Irony also finds its way into these walks, specifically when the Nobuo stops to get an ice cream cone, eating it on his trek, in spite of the freezing temperatures. Later on, we also see the Nobuo's son, Ryoichi (Teruyuki Kagawa) buying an ice cream cone from an outdoor vending machine. It's difficult to understand Kobayashi's intentions with these ice cream cones. Perhaps they imply the characters enjoyment of living in icy atmosphere? I'm not quite sure.
Additionally, it's difficult to decode the motivation behind some of Kobayashi's technical decisions, like his choice to scatter jump cuts throughout his edit. Jump cuts are introduced during a dinner scene part-way through, and these jump cuts aren't too effective, rather they appear sort of aimless and only fracture aesthetics established earlier. Kobayashi mostly plays it safe with his camera movements, opting to shoot a large part of his shots — particularly his long, medium-long, and medium shots — from a static camera. Nonetheless, he composes his close up shots with a hand held camera and the camera movement provides a nice contrast. Kobayashi is an intelligent director, and I'd never undermine his work, however, being a film editor, it's hard to resist critiquing those jump cuts. Some of the jump cuts do work well.
Kobayashi skillfully uses poetic inter-titles that he sprinkles throughout the film. One says:
Northern Country
Covered with snow
Half the year round
And another says:
Elder son
No success
Failed musician
We learn some basic character background from these inter-titles. I admire Kobayashi's use of inter-titles.
Naturally, the mise-en-scène of the film is comprised of gloomy whites, blues, and browns, but are often accented by vibrant shades of red, a color Kobayashi seemingly uses to convey repressed love and passion. The salmon girl, Michiko, wears red, notably in a scene where her and Nobuo discuss marriage, a proposition Michiko considers, despite being approximately forty or so years younger than him. Eventually, the scene leads to Michiko (see film still below) unzipping her bright red sweater to reveal her breasts to Nobuo. Nobuo becomes timid and nothing sexual follows, but the two carry on an offbeat relationship; preceding the marriage proposition, we observe as Nobuo gleefully gives the salmon girl piggyback rides, and in one instance, this is followed by the salmon girl giving Nobuo a back rub.
A central theme is represented by the motif of the salmon hatchlings that are housed in small tanks — this could be interpreted as a metaphor for the characters — all of the characters are confined to their environment; some wish to escape; some wish to stay.
— AR
You can watch Man Walking on Snow via a Facets rental or an Auteurs rental.
More:
The Auteurs: Man Walking on Snow