O'er the Land at the New York Film Festival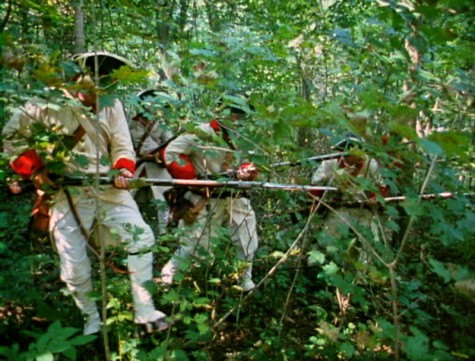 Johnny Lavant of The Auteurs recently attended the 2009 New York Film Festival. Thus far, he has posted four comprehensive reviews of the NYFF's Views from the Avant-Garde program. His first post trashed avant-garde film genre entirely; I thought it would end on a pessimistic note, however, his second and third posts reveal that Johnny does have a heart for the avant-garde when he's watching films by Ben Russell, David Gatten, and Deborah Stratman.
Here is a nice lil review of Deborah Stratman's O'er the Land:
O'er the Land (Deborah Stratman)
Another film of quotidian routines filmed as epic pageantry. Coming after Riff, which declares that the world's bad and should be taken very seriously, O'er the Land, which in 50 minutes documents and restages a vet's war story, a firefighter drill, a border patrol scouting, a Revolutionary War reenactment, and a football game, with occasional voice-over and anthems, works from the more honest premise that war's a chaotic extension of neatly-staged rallies done for fun and practice, an idea familiar from Dr. Strangelove and Inglourious Basterds, the last chapter of The Iliad, and my own recent experience with kittens who show affection by playing training games for the hunts and murders they'll perform as cats. So there's a fun, invisible thesis, and an empirically justifiable one, to fit the pieces together into a compass of modern Americana dress-up cases doing what they can not to be modern. And of course Stratman's in on it as a guerilla filmmaker. It's never clear what's theory and what's practice, what she's staged or her characters have staged, so that everyone becomes a performer, even as Stratman watches them fluidly switch in and out of roles, as a line of cheer-leaders exercising slowly falls into step at a game's sidelines. Everyone, from football players to soldiers to officers, is a costumed professional. O'er the Land, like Tati's films, is a documentary comedy, but one about war as a domestic routine to maintain borders and self-contained identities that Stratman for her own part slips between.

And like Tati's films, it's a hell of a work of cinematography, unrivaled by any of the webcam posers coming out of bedroom-box Europe. Stratman exploits 16mm's deep-focus precision so that spectators half-a-mile from the camera can be seen acting with the characters in the foreground. As in Tati, everyone's worth watching, and mills around the scene like pieces on a board. Stratman's favorite Benning-like strategy is to film still lives in nature or a room, and then, when the space has settled as a blown-up photograph, to send in a character or two to interact with it. It's like Bugs Bunny let loose in a Veronese. It's not that the spaces suddenly seem real and livable but that the characters, all dolled up, seem faker than ever, accoutrements and companion-pieces to their room. It's a documentary doll-house. The real laugh would be if some Hollywood insider like Gus Van Sant saw the movie and brought Stratman West as a cinematographer. Hollywood would quake. —Johnny Lavant, The Auteurs
You can read the entire post here.