The Psychedelic Films of John Whitney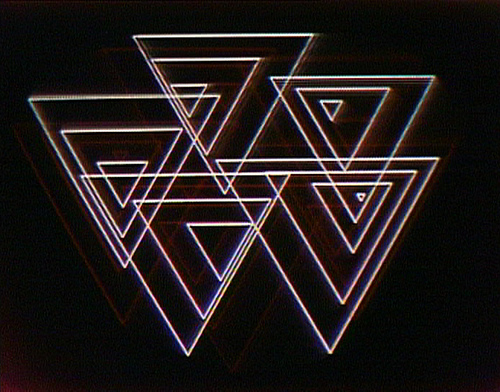 Many see the 1980s as the launch-pad for the computer animation movement, but this is not the case.  Many overlook the fact that John Whitney — both god and father to motion graphics and computer animation — was creating complex visual fx during the late 1950s and early '60s — and, unlike most animators, Whitney actually invented many of the processes and machines he used to create his works.
Whitney would win awards at the first International Experimental Film Competition in Belgium, 1949, and starting in the late 1950s, Whitney implemented complex visual fx by means of an analogue computer program he created through the augmentation of a WWII M-5 anti-aircraft program with a M-7 mechanism — it's difficult to comprehend — but this process lead to the creation of a twelve-foot-high machine that broke new ground in the area of visual fx and motion graphics.  Later on in his career, Whitney invented a visual/audio program called the Whitney-Reed RDTD (Radius-Differential Theta Differential).
Using this science-fiction machinery, he crafted multiple design templates and placed them on different layers of rotating tables where images were photographed by cameras on a rotating axis.  He then used an optical printer to add fluorescent colors and other striking fx — in turn, Whitney pioneered, and continued to build a portfolio of films that were unlike any before.
A synthesis of kaleidoscopic hallucinations, geometric patterns, psychedelic forms & objects, and a symmetrical eye-trace are defining characteristics of Whitney's work.  The latter paired with an inner-drive for artistic perfection would garner Whitney worldwide recognition and a N.E.A. grant that would fund his masterwork Arabesque (1975).  Additionally, in 1966, the IBM Corporation would award Whitney with its very first artist-in-residence position —Whitney's work soon flourished.
Whitney, unlike many other avant-garde and experimental filmmakers, would find a balance between the makings of his own art and a professional/corporate career.  In 1960, Whitney founded Motion Graphics Inc., where he was hired to produce television commercials and title sequences. (Previously, Whitney had animated the opening title sequence for Alfred Hitchcock's 1958 smash, Vertigo.)
After an impressive career, John Whitney would pass in 1996 at age 78.  Due to his strong sense of artistic integrity, control, and technological talent, John Whitney's films remain recognized and are still viewed to this day.  He brought many gifts — and those gifts were pretty, pretty trippy.   ◊
Arabesque (1975)
Computer Graphics, 7 min, color
Music: Manoocheher Sadeghi.
In the 1970s Whitney dropped the analogue equipment and went digital.  It was during this period that Whitney created his best-regarded works, including Arabesque (1975) and Matrix III (1973).
Matrix III (1972)

Computer graphics, 11 min, color
Music: From Terry Riley's Rainbow in Curved Air.
_______________________
More:

John Whitney Biography Website