Paper: The Art and Animation of Jen Stark

Papermation, Jen Stark, 2005, 38 sec, with music by Eddie Alonso.
Papermation (2005) is an impressive stop-motion animation by Jen Stark, a Miami-based artist and animator, whose work channels phantasmagoric tropes of the extrasensory, with motifs of psychedelia, the rainbow spectrum, geometric forms, and other extrasensory phantasms that defy classification.
Jen made Papermation entirely from paper, hence the title Papermation. Jen is prolific with paper, using it in her animations, sculptures, and of course, her drawings. Her work has colorful zest, and her work explores the extrasensory in a playful manner. These days, most kaleidoscopic animations are rendered synthetically; however, the tactility of Stark's approach carries organic warmth; the warmth endures its digital conversion. Charming.
Other Animations by Jen Stark
Tunnel Vision Inside View, Jen Stark, 45 sec
Artist's Synopsis: This is a view of the inside of a sculpture I created called "Tunnel Vision" that hangs on the wall and has a peephole you can look into. It was made using kaleidoscope mirrors, with a drawing on a motor and a light.
Streaming Gradient, 2008, 38 sec

Artist's Statement: This is a stop motion animation I created in 2008 using only paper. Music by Eddie Alonso.
Jen Stark | Sculpture
Double Take
24″ x 24″ x 24 / hand-cut wood, acrylic paint / 2009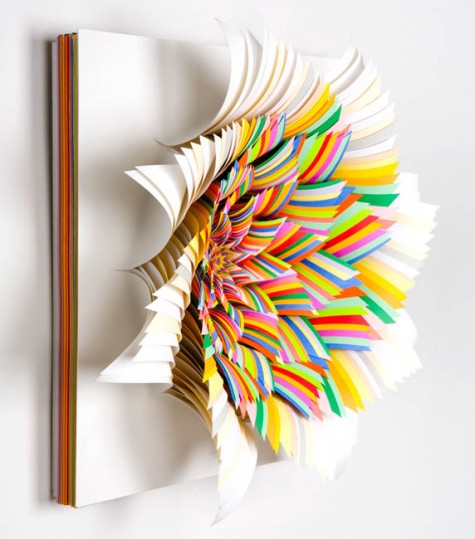 Coriolis Effect
12″ x 12″ / hand-cut paper / 2007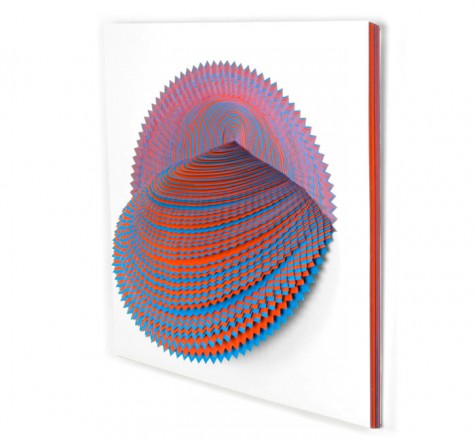 Purple
20″ x 20″ / hand-cut paper / 2009
Afterglow
12″ x 12″ / hand-cut paper / 2007
Over and Out
19″ x 19″ x 5″ / hand-cut paper / 2008
Drawings by Jen Stark
Explosive Expansion
26″ x 40″ / felt-tip pen on paper / 2009
Space and Time
22.5″ x 30″ / felt-tip pen and pencil on paper / 2008
What Does Organic Matter
22.5″ x 30″ / felt-tip pen and pencil on paper / 2008
Jen received her BFA in Fibers / Animation from the Maryland Institute College of Art (MICA), Baltimore, Maryland, Magna Cum Laude.
More: