Will Thomas: Film on Paper: Exquisite Corpse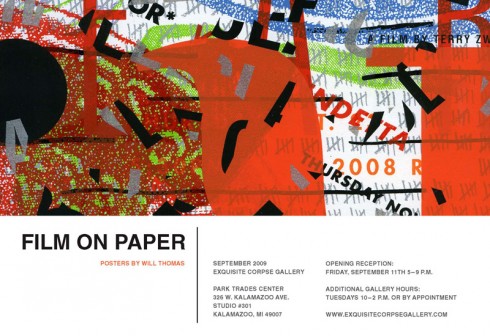 Straight from the Horse's mouth (Will Thomas):
The Exquisite Corpse Gallery in Kalamazoo is graciously hosting an exhibition of some of my poster work.
On display for the month of September will be the entire series of silkscreened posters from the Frostic Alternative Film Series that you may or may not already be familiar with.

There will an opening reception on Friday Sept. 11th (art hop!) from 5 till 9 P.M. So, mark your calendars.

I, unfortunately will not be in attendance, but if you are around, stop by Park Trades Center Studio #301.

The gallery is also open on Tuesdays from 10 till 2 P.M. or by appointment.

Also, in addition to posters being available, sets of screenprinted postcards will be for sale.
Please feel free to tell all your friends and neighbors about the opening!