BYOB Chicago at Mana Contemporary, 4/23/16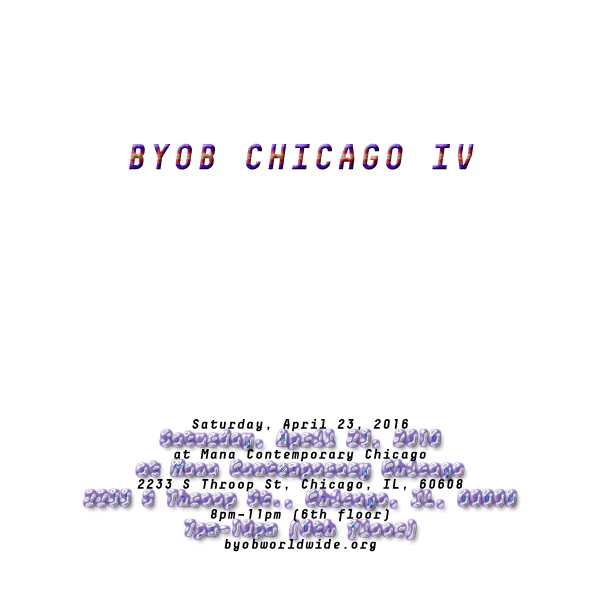 BYOB CHICAGO IV
Saturday, April 23, 2016
at Mana Contemporary Chicago
2233 S Throop St., Chicago, IL, 60608
8pm–11pm (6th floor)
BYOB (Bring Your Own Beamer) is a simple art exhibition format wherein artists bring a projector (beamer) to an open space and project moving images for one night only.
Artist Rafaël Rozendaal first ideated this simple concept back in 2010, and since then, BYOB exhibitions have occurred over 200 times in many different cities worldwide and "BYOB Chicago IV" is the fourth Chicago iteration of this international project.
Join us on Saturday, 4/23/16, for a convivial night of moving light and media art projected inside the 6th floor of Mana Contemporary Chicago, a vast space filled with many architectural pillars.
Participating Artists Include: Cheryl Acuna, Kayla Anderson, Marissa Benedict & David Rueter, Thorne Brandt, Nick Briz, Jon Cates, Jon Chambers, Chris Collins, Paul Carlo Esposito, Eric Fleischauer, Nicole Ginelli, Christine Janokowicz, Yaloopop Jiyeon Lim, Anansi kNOwbody, Jesse Malmed, Todd Mattei, Paula Pinho Martins Nacif, Erika Råberg, Andrew Rosinski, Anna Russett, Jon Satrom, Sanaz Sohrabi, Hilary Wiedemann, Snow Yunxue Fu, and more. Organized by Andrew Rosinski.
RSVP
hellochicago@manacontemporary.com
https://www.facebook.com/events/216122882089982/
More info:
https://www.byobworldwide.com/faq