7 Question Interview with Petra Cortright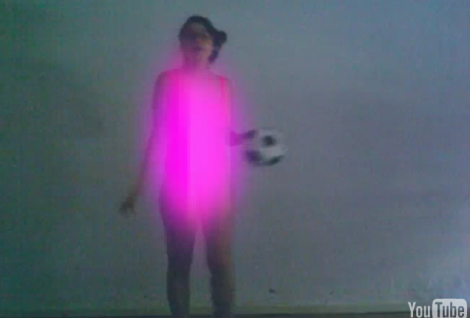 Petra Cortright is an internet artist who currently resides in California, whose work plies the territory of webcam performance, visual art, video art, the internet, and more.
Petra Cortright was born in 1986, in Santa Barbara, California, and has has resided in New York City, New York; Portland, Oregon; Toyko, Japan; and Berlin, Germany. She is a member of the Nasty Nets Internet Surfing Club, Loshadka Internet Surfing Club, and Computers Club. She has studied at Parsons School of Design in New York and California College of the Arts in San Francisco. Click here for Petra's C/V and bio.
Her work has made its way 'cross the interview and o'er the international scene, including the New Museum in New York, the Venice Biennale, Adbusters Magazine (Nov/Dec '08 issue), the sixth annual Stan Brakhage Symposium (2010, Film Studies at the University of Colorado, Boulder), the (now defunct) New York Underground Film Festival, and  her Endless Pot of Gold CD-Rs installation (Nasty Nets collaboration) piece exhibited at the 2009 Sundance International Film Festival.
Petra and her work makes the internet splash, with her work snagging brickbats and inciting plaudits. In August 2007, Petra's work stirred some dirt with a puzzled Patty Johnson, artfagcity.com founder and veteran art-blogger:
Four days ago Tom Moody posted Petra Cortright's webcam video and since then I've been struggling to articulate why the aesthetics of this piece of [sic] go beyond taking a few clip images from the web and slapping them on a video. Unlike a David Shrigley piece, which uses humor so obvious its value requires no explanation, a cam featuring a still figure, dancing pizzas, and falling snow to an electronic beat may require a little more discussion.

…

Probably the most amusing aspect of this work lies in the fact that it's basically a documentation of a live performance, in which you watch someone concentrate on their computer screen for the duration of a song. I realize this comment tends to incite a host of responses most of which begin something to the effect of "So why am I looking at this?", and while there's no response to this if you don't find the redundancies of web surfing that so many net artists like to highlight funny, there's also a level of virtuosity in the live arrangement of gifs etc, that needs to be called to attention.
Patty seemingly warmed to Petra's internet work with an near-end conclusion of, "Cortright's webcam piece succeeds because her dancing pizzas are unexpected, and the snow and lightening seem almost delicately placed."
Petra's work speaks for itself, and Patty of artfagcity makes a peppery bullet point: love-it-or-hate-it, multiple viewing explicate.
Below is a seven question interview with Petra Cortright.

Sparkling, 2010
(1) What corner of the Internet do you call home?
gmail/gchat/gtalk since i live in an "isolated" place so its where i talk to all my friends. fb/fb chat doesn't feel very solid. the fb chat format is annoying and i really dislike being sent actual information in a fb message — i always forget to reply because they get buried so fast under some type of event invite messages
(2) What is your inspiration soup?
bored + energy + my room is clean + NONJUDGMENTAL STANCE + WISE MIND
(3) What is your recipe for disaster?
living in filth & feeling lost

footvball /faerie, 2009
(4) How do you wish to expand your work, aesthetically, conceptually, and technically?
aesthetics come without thinking, "conceptually" is something i avoid, sincerity has greater value to me, technically trying to be better about not becoming nervous / intimidated / second guessing myself with commissioned work.
(5) Select an image of your liking and write a 7-line poem..
i wrote in 2007 inspired by the meeting of largest dog in the world with the smallest dog in the world:
TWO EYEEZ GOIN IN DIFFERENT DIRECTIONS
ONE TOWARDS THE SUUUNNN
N ONE TOWARDS THE MOOONNN
YOU WERE BORN
KNOWIN A SECRETTTT
THE SECRETT TO LIFE
BUT UR NOT GONNNA TELL US
YOU WILL NEVVERR TELL USS
YOU WILL DIE WITH THE SECRETT
TWO EYEEZ GOIN IN DIFFERENT DIRECTIONS
ONE TOWARDS THE SUUUNNN
N ONE TOWARDS THE MOOONNN
N IM PRAYING 2 U
CUZ GOD MUSTA MADE U
UR GOD URSELFFF
SOME SAY ITS TRUEE
TWO EYEEZ GOIN IN DIFFERENT DIRECTIONS
ONE TOWARDS THE SUUUNNN
N ONE TOWARDS THE MOOONNN
THE KNOWLEDGE U HAD
UR KEEPING IT INSIDE
INSIDE YOUR BRAIN
ITS THERE IN YOUR GAZE
BUT ITS LEAKKING OUT
ITS FLOWIN OUT OF YOUR PIGTAILS
IT ONLY LOOKS LIKE U GOT EM
U DONT REALLY HAVE EM
BUT YOUR HAIRS
JUST SO LOOONG
TWO EYEEZ GOIN IN DIFFERENT DIRECTIONS
ONE TOWARDS THE SUUUNNN
N ONE TOWARDS THE MOOONNN

Oh my God how we.. Increase. Oh my God, how we rise., 2010
(6) Your opinion: vimeo vs. youtube: your opinion, please expound.
youtube because always more comments/discussion and people get really real with hate/like and dont hold back. vimeo is like flickr where there are not many comments and the comments are always positive. its more interesting to hear about how much people hate what you do and also more fun to repsond back with rude goofy threat then thank the peasant for the +1 view
(7) Seven irrelevant questions:
(A) Your favorite action movie.
lara croft 4-ever
(B) What is the best film you have seen this year of 2010?
"the comfort of strangers" it was made in 1990. so fucking creepy. i aven't seen any movies in theatres actually now that i think of it. this year i mean. i like the harry potters i guess that is my answer for something released 2010.
(C) What are your top 5 Kraftwerk songs (in order of preference, if possible)?
the modell song
(D) What two colors look best together?
black n white, i always have a thing for "defaults"
(E) What type of 'creative stuff' is most boring?
something that requires an essay to understand or something that is made just claim it because nobody has made it yet / "art sport"
this work serves a purpose and i do not think it is bad per se i just personally donnt connect the way as i do with something that feels strong to me in aesthetics
(F) What is your #1 favorite website?
unnnnnnnnnnnnnnnnnnnnghthist question. google images probably??
(G) What type of animal do you think of when you hear the word 'DINCA.'
something sly and pointy, long haired, squinty
criminal by nature goofy @ heart
More: