Peyote Queen | Film Review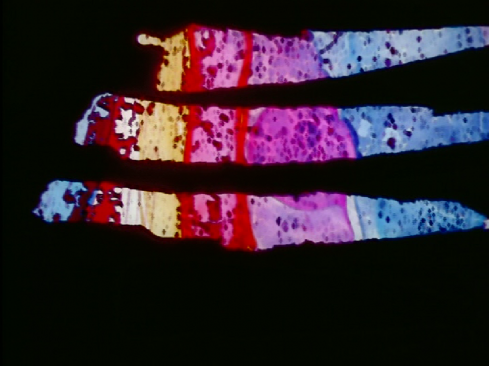 A film by Storm De Hirsch, 1965, 8 mins, 8mm, color, sound
Filmmakers never have a valid excuse not to make films — you don't even need a camera to make a film — nor a computer. Storm De Hirsch, a film avant-gardener of the '60s, didn't have a camera — she definitely didn't have a computer: all she had was old, unused film stock and a few rolls of 16mm sound tape.  Throwing aside the animation conventions of the '60s (usually frame-by-frame photography of drawings on paper or transparencies), De Hirsch successfully created a trilogy of films by painting directly on old film stock, cutting, and etching the film emulsion. The trilogy included De Hirsch's Divinations (1964), Peyote Queen (1964), and Shaman, A Tapestry for Sorcerers (1966).
After completion of the trilogy, Storm De Hirsch explained to her friend Jonas Menkas how the projects came to fruition:
I wanted badly to make an animated short, but I had no camera available.  I did have some old, unused film stock and several rolls of 16mm sound tape.  So I used that — plus a variety of discarded surgical instruments and the sharp edge of a screwdriver — by cutting, etching, and painting directly on both film and [sound] tape.— Storm De Hirsh to her friend Jonas Mekas
It's presumable that Peyote Queen was, to a certain extent, induced by a psychedelic peyote experience of De Hirsch's.  It's also presumable that De Hirsch shot parts of the film while she was on her "vision quest." Well, it's quite obvious — a few sequences feature an organic kaleidoscopic effect, which De Hirsch created by holding a clear, kaleidoscopic object up to the lens of her camera. Once you see De Hirsch's hand (bottom left corner of the frame) spinning the object, it's quite apparent that De Hirsch was somewhat inebriated while filming the sequence.
Peyote Queen begins with scattered epileptic movements of simple white globs. An uptempo drumming rhythm of a tribal song accompanies the imagery, which segues into white lines, and then into split screen imagery where the frame is divided into four quarters — featuring female breasts, unidentifiable objects, abstract light phantasms, and so forth.
Eventually the images flicker to technicolored hieroglyphs and what appears to be tiger (or some other big cat) claw scratch patterns. This is one of the strongest moments of the film; this queues spacey, reverb-drowned basement music. Soon the technicolor tiger claw scratches melt into dancing, human-like lines, and this is intercut with the progressive symbolism of the glyphs — breasts, fish, water, stars, the moon, female lips, seemingly a sailboat — De Hirsch represents these prehistoric glyphs by painting directly on the film stock. Unique, psychedelic motifs such as these certify Peyote Queen as an avant-garde gem.
To my knowledge, there are no video clips online of Peyote Queen.  However, the film is featured on the recent Anthology Film Archives release, Treasures IV: American Avant-Garde Film: 1947-1986, which is available for rental on facets and netflix.  You can also purchase the film on Amazon.
More:
Additional Still Images of Peyote Queen | Anthology Film Archives

Purchase a Peyote Queen Print | Canyon Cinema

Purchase Treasures IV | Amazon